Steve Nollette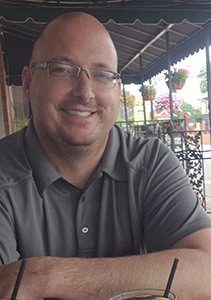 When you think of something being created out of metal, you think of a blacksmith. Raw metal being heated and hammered to produce a heavy piece of iron for a finished product. You may think of someone wearing a heavy canvas apron and oversized gloves in a dark shop full of filthy tools from all of the soot of working with metal. A shop full of loud noises from hammering, cutting, and grinding the metal for that perfect piece. And finally, black being the color of paint available to finish this.
I set out to create with metal in a different fashion. I don't use hot ovens to heat metal, no big hammers for forging the steel, no heavy canvas apron is worn, and my shop is a well organized with bright lights and big windows. I set out to create metal with clean lines, natural metal materials, exposed welds, and finishes from patinas that oxidize the metal. I use techniques that really concentrate on the fine details and bring out the raw beauty in the metal itself, creating pieces not traditionally associated with being made with metal.
Growing up my passion was cars, so I started college as a Mechanical Engineering major but soon realized there were other avenues to be creative that interested me. I finished college with a bachelor's degree in Advertising and Marketing. After working in the corporate world for a little over 5 years, I realized I wanted to get involved in a more "hands-on" creative type business. I was really fascinated by what could be done with metal and the whole process involved in creating with it. I couldn't find anything that was interesting and unique that was being produced from metal so I set out to create my own style.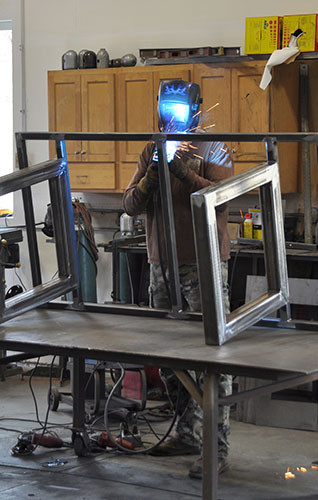 My first project was a piece for my house that I created in our two car garage. It was such a hit that it quickly evolved into creating pieces for family and friends and eventually for designers and architects. After 5 years and completely out of room in our garage, I moved to a studio space in a small industrial neighborhood in Omaha. A few years later I made the move to the country and into a 3000 square foot barn on a 13 acre farm outside of Blair, NE. This passion that I had for creating and working with my hands growing up has become my life's work and I couldn't see myself doing anything else. Every day I get to create so I really am doing exactly what I love and what feeds my passion. I haven't 'worked' a day of my life since I walked away from that corporate job over 20 years ago.
At Nollette Metal Works, we custom design and create metal furniture-lighting-artwork-accessories for your home or business. After 20 years, I have expanded my talents into a variety of creations with different types of metal and using different types of materials to compliment the metal. This website is a portfolio of my work.
Contact us for an appointment and transform your place into a work of art!
~Steve